Ladies First Tuesday Lunch Club - Blackfriars, Newcastle
I may not be the 'lady what lunches' - far from it. From working in hotels and events for what seems an age, I'm always the one running around at a hundred miles an hour planning the events I long to attend, never mind spending the morning preening to look my best for lunch. So alas, I'm not one of
those
ladies*. However, we all have days off - and they are made for breaking out of the ordinary, and the thought of taking time out of work and forgetting your everyday chores is just too tempting.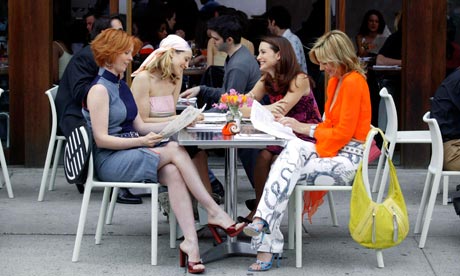 *as displayed here by these 'ladies'
Cue a city which is totally lacking in such socialite events, where you can gather the girls, get dressed up in the middle of the day, and enjoy the 'event' of lunch. Cue
Blackfriars
...one of my most favourite haunts in the city. If you've not yet been - why not? It was voted the best Sunday Lunch in Newcastle by
The Independent
, won gold for the 'Taste of England' award at the Tourism Awards last year AND was the first restaurant in the region to be given a top rating in sustainability by the SRA. What's not to love?
One of the new events on the block they have, is the Ladies First Tuesday Lunch Club. With a different theme each month, they plan to entertain with a different craft, alongside a leisurely lunch. The next event is Candlemaking with Peter Cooke of Northumbrian Candleworks, on Tuesday 4th March. The little snippet of information that pricked my ears with this one is that their candles have been compared to Jo Malone, which in my eyes are the mecca of candle suppliers. In true Blackfriars style however, they love to keep it local. What also makes this event even more special, it's not just another demo - it's more interactive, where you take away your own scented candle at the end of the lunch.
The food here is amazing. Although our favoured chef Troy Terrington has moved on to pastures new, the restaurant is still going strength to strength with their menus. Locally sourced ingredients with a rustic, honest feel - it never disappoints. If you ever see the potted mackerel on the menu - get it, I guarantee you will love it. The event is an extremely excellent price of £25 for a glass of fizz (how every ladies lunch should start!), a 3 course meal with wine, coffee, and the candle event. So, grab the girls and make some time to be one of those ladies.
Too book your place, you can call or email:
0191 261 5945 | info@blackfriarsrestaurant.co.uk
Blackfriars always has a busting calendar of events, and if you've ever tried to get a place on one of the Bread Making courses, I feel your pain - they're always so popular they sell out before you even get chance to book. I bought the other half a place on Maunika Gowardhan's class held in the teaching kitchens there as well as one of the Dinner Party Cooking classes last year - and he loved them! Thankfully, he still has the recipe sheets and provides me with homemade goodies when he has the time.
Jeff's Bun Bounty - from the 'Dinner Party Cooking' course
If Ladies Lunches just aren't your thing, and large amazing portions of gorgeous food are, you may be interested in this
review
of Sunday Lunch that we had last year over on Newcastle Eats. Definitely give it a try, we dubbed it the best Sunday dinner so far...
K x